Isle of Wight farmer is launching a revolutionary service that will not only save the agricultural industry millions of pounds a year, but will also improve animal welfare.
Scroll down for a video …
Cattle lookout aims to ensure the safety of livestock and was developed by Tim Rogers who drew on his own first-hand experience.
Tim, of 250-acre Palmers Farm in Wootton (which is nestled in the shadow of Queen Victoria's former home at Osborne House), came up with an idea that you can just text a central number that then alerts privately to the farmer, so that he can respond accordingly.
The Isle of Wight National Agricultural Union is also supporting the program, which has been successfully implemented on the island and is now being rolled out nationwide.
Tim spoke exclusively to Isle of Wight Radio, he said he got a good response from local farmers:
"We tested it here with well-known farmers and they found that they were able to remove any false incidents and were able to respond quickly and effectively to actual incidents on their land.
"The farmer remains anonymous because we now have a central number where walkers can text 'help', then each sign next to the farmer's field has a location number and walkers are also asked to enter that number. 'site.
"They then respond by text message and ask what the problem is… This could also be a rural crime which is a growing problem at the moment, the text messages will be forwarded to the farmer to give him as much information as possible. is the case. In an emergency, he will receive a call from smart technology, telling him there is an incident on his property. "
Another benefit of the project is that it provides a rapid response to dog attacks, which NFU Mutual estimated cost farmers around £ 1.3million in 2020.
Livestock Lookout can also help with other issues, including:
Escaped cattle
Cattle theft
Damage caused by stray animals
Problems with gates and fences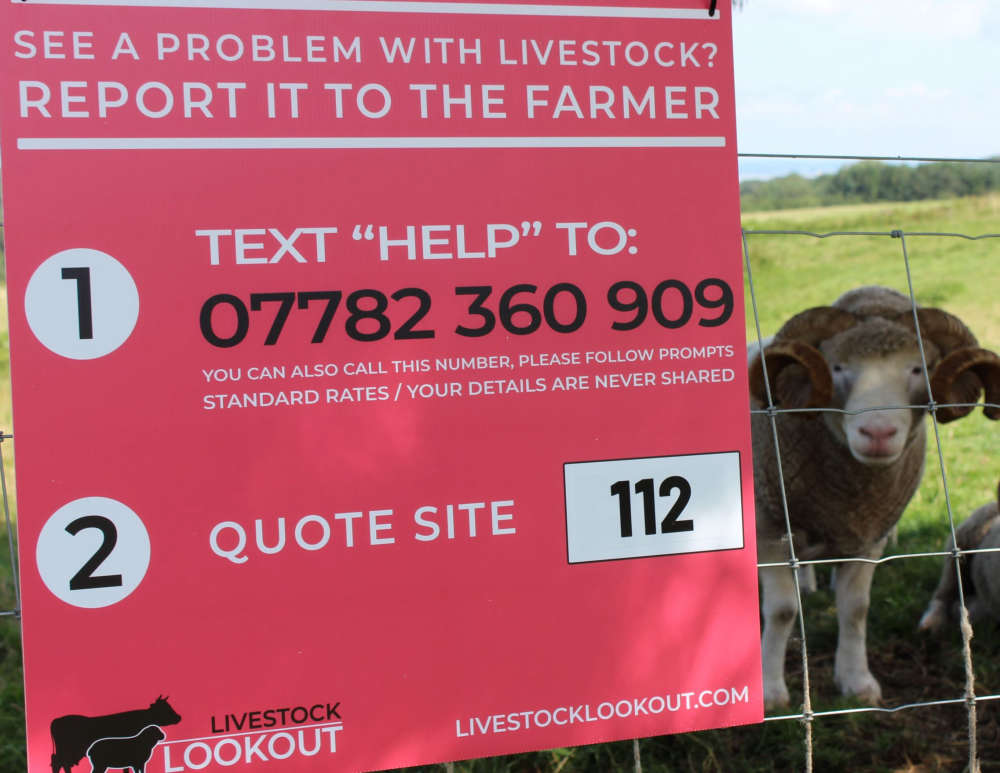 With more and more people spending more time in the countryside due to changing habits in a post-Covid world, Tim believes his new service is becoming available at the right time.
Tim added:
"The increased use of the campaign presents both a challenge and an opportunity. This is a challenge as some people will not know the rural code, but also an opportunity as they also represent a useful and abundant source of eyes and ears for the farmer.
The Livestock Lookout concept works by giving farmers 24/7 support to keep an eye on their land and livestock through highly visible signage and smart technology.
Tim explained how it all started when a cow escaped from one of his fields:
"The first time we heard about it, it was through a message that my wife Danielle found on Facebook. By then it had become a pretty serious incident. The cow had run over someone – luckily they weren't too injured – and damaged a car.
"After that, we put up a sign with our contact number in case there were any future problems. But it has all been generating unwanted phone calls from people wanting to use our land for everything from metal detecting to camping to motocross.
"It was clear that we needed a more effective early warning system that also preserves the anonymity of our personal data – and that's exactly what Livestock Lookout is doing. "
Robyn Munt, president of the Isle of Wight branch of the NFU added:
"We are very happy to support our member, Tim, with this innovative and positive way of interacting with and using the growing number of people benefiting from the UK countryside."
Stephen Russell, Policy and Advocacy Officer for the Ramblers concluded:
"Walkers can play a vital role as the eyes and ears of the campaign. However, it can be very difficult for them to know who to contact to report any disturbing incidents they encounter.
"This service has the potential to bring together the farming community, for whom the countryside is a working environment, and the public, eager to get out and connect with nature, to protect and improve rural green spaces for all.
WATCH A VIDEO BELOW …